Aratta Earliest Civilization
Close
Burnt City
The city was built around 3200 BC and emptied (2100 BC) over a time later. The city experienced four stages of civilization and was burnt down three times and this is the reason why the city named Burnt City and because it was never rebuilt after the last fire. The site was discovered in 1967.
Discoveries
The oldest known backgammon, a human skull which indicates the practice of brain surgery and an painter object that indicate the first animation also In December 2006 archaeologists discovered the world's earliest artificial eyeball in the city.
Women's Role
Some paleoanthropologists believe that mothers in the Burnt City had social and financial prominence.
5000 year-old insignias, made of river pebbles and believed to belong only to distinguished inhabitants of the city, were found in the graves of some female citizens.
Some believe the female owners of the insignias used them to place their seal on valuable documents.
Others believe the owners may have used the seal to indicate their lofty status in society.
Close
Jiroft
Research in to this civilization is a relatively recent and ongoing multinational archaeological project that aims to uncover an unknown civilization in a series of newly discovered sites in Iran's Kerman province, located, known as Jiroft or Halil Rud area. Professor Madjidzadeh the head of archaeologists group in Jiroft said when other archaeologists and I first saw the objects which have been found in Jiroft we strongly believed that civilization started from this area not south of Mesopotamia the mass of discoveries made in fey years in jiroft indicate that the art of carving in this historical site was much more developed that that of the Sumerian civilization which is believed to be the most ancient civilization of the world.
Ziggurat
Also a gigantic ziggurat has been discovered. Below is a comparison between the Great Pyramid of Khufu (largest Egyptian pyramid) and the Great ziggurat of Jiroft.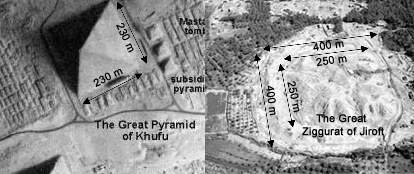 Inscription
The inscription found earlier in the region, arachnologists believed that the writing language of Jiroft is more ancient that that of Mesopotamia, and the script language was spread to Mesopotamia from the region.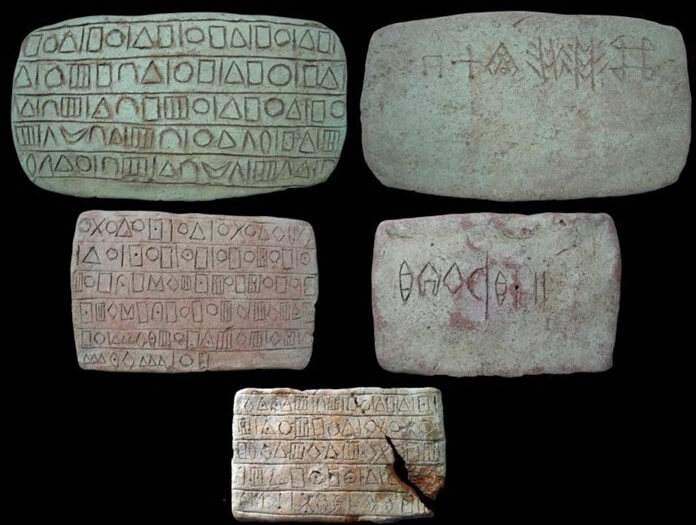 Close
Shahdad
Shahdad (third millennium B.C) was a major Bronze Age centre discovered in 1968. The Shahdad artisans worked lapis lazuli, silver, lead, turquoise, and other materials imported from as far away as eastern Afghanistan, as well as shells from the distant Persian Gulf and Indian Ocean. Evidence shows that ancient Shahdad had a large metalworking industry by this time." Shahdad shares many parallels with Shahr-i-Sokhta. Many other ancient settlements are found in what is now empty desert. The oldest metal flag in human history was found in this city.
Oldest Metal Flag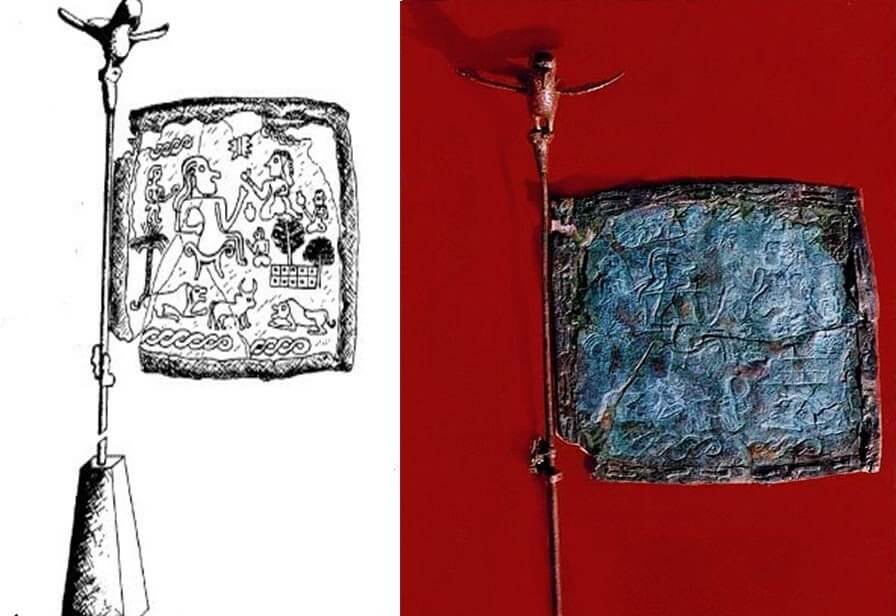 Close
Close
Yahya
In the 3rd millennium BCE, the city was a production center of chlorite stone ware; Nearby, a steatite mine has been discovered. Over a thousand steatite pieces were found, indicating local manufacturing. The distribution of these vessels was very wide. They were found not only in Mesopotamia, but also in Bampur IV, and in Shahr-i Sokhta. They were also found in the lower levels at Mohenjodaro. Steatite bowls with similar motifs are also found on Tarut island, and copies have been found at Umm-an Nar in the Persian Gulf.
Early writing
Six proto-Elamite tablets that have been recovered. Also, eighty-four tablet blanks indicate that writing was being practised at here. Also, an object was found similar to a writing stylus.